Valerie Rogers – Wildlife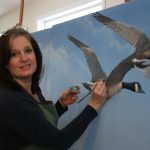 Valerie Rogers is a naturalist painter. She paints in-depth visual studies of nature and its creatures in their own quiet places. She focuses on the natural beauty around her and translates it to paint, paper and canvas. A lifetime spent immersed in nature, studying the plants and animals  closely provides the background information for her paintings. The ongoing exposure to new wilderness experience is the birthplace for many of her new paintings. Her love for the outdoors is reflected in her artwork. That artwork helps to support the conservation efforts of numerous local and national environmental groups.
In 2015 the Kelowna International Airport featured a huge 33 foot painting of Valerie Rogers. This painting is focused on flight and has a flock of nine Canadian geese lifting off the water and flying away.
Her paintings have received awards in a variety of Art shows and competitions. Some of these are; National Ducks Unlimited Portfolio Artist 2018, BC Wildlife Federation Artist of the Year 2016, GOABC Artist of the Year 2014, Silver Finalist for BC Wildlife Federation Artist of the Year 2013 and 2014, Silver Finalist for Trout Unlimited Canada 2012,  Kamloops FCA People's Choice 2011, John Edgar Patterson Award 2010, BC Wildlife Federation's Artist of the Year 2008, Armstrong Award show People's Choice,  and the RMEF People's Choice Award.
Her artwork has been featured with a cover photo and 8 pages spread in International Artist Magazine.
She exhibits regularly in the Okanagan and Shuswap and is an active member of the Federation of Canadian Artists, Artists for Conservation, Society of Canadian Artists, International Guild of Realism and SAGA. Her paintings are in collections around the world.